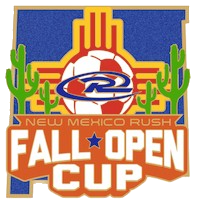 CHECK IN
Sept. 1, 2023
5:30 PM TO 8:30 P.M.
tHE cENTER
4425 pROSPECT ne, abq
REVISED AUGUST 25, 2023
REGISTRATION
ALL TEAMS MUST CHECK IN BETWEEN 5:30 AND 8:30 ON FRIDAY, SEPT 1 , 2023 AT THE CENTER, 4425 PROSPECT NE SUITE 155.
PASSCARDS ARE REQUIRED
Teams will have to provide a copy of their official roster from their state association at check-in.
ROSTERS MUST BE EMAILED TO [email protected] PRIOR TO 11:59 P.M. WEDNESDAY SO THAT TEAMS AGES CAN BE VERIFIED.
Rosters must have all players on them. Each player must have their jersey number written on the roster, their name, gender and date of birth. Guest players names must be written on the roster along with their jersey number and date of birth.
COACHES MUST BRING COPIES OF PLAYERS MEDICAL WAIVERS/REGISTRATION FORMS TO CHECK IN AS WELL AS THEIR FINAL ROSTER
TEAMS TRAVELING OOUTSIDE OF THE REGION (ALL TEXAS TEAMS) MUST HAVE A PERMISSION TO TRAVEL FORM FROM THEIR STATE ASSOCIATION.
If you can't make check-in at this time, please call the Tournament Director at 505-205-7786 or email [email protected]

REFEREE CHECK IN ◦
Coaches will provide the official with their play cards prior to the start of each game. Each player card will have an official tournament stamp